Hello, Bonjour, Hallo und Servus!
Heute zeigen wir Euch Projekte mit dem Designerpapier Pfingstrosenpoesie.
Eines meiner Lieblingspapiere, ist doch das Granit dabei dass eines meiner Lieblingsfarben ist!
WIr sind eine Gruppe von Demonstratoren weltweit die diesen Hop anbieten deshalb findest du verschiedenste Sprachen!
I saw this Mini-Album of our Artisan Designer Zsuzsanne Balazs a while ago and knew I had to make it!
Thanks for the Measurements Zsuzsanna!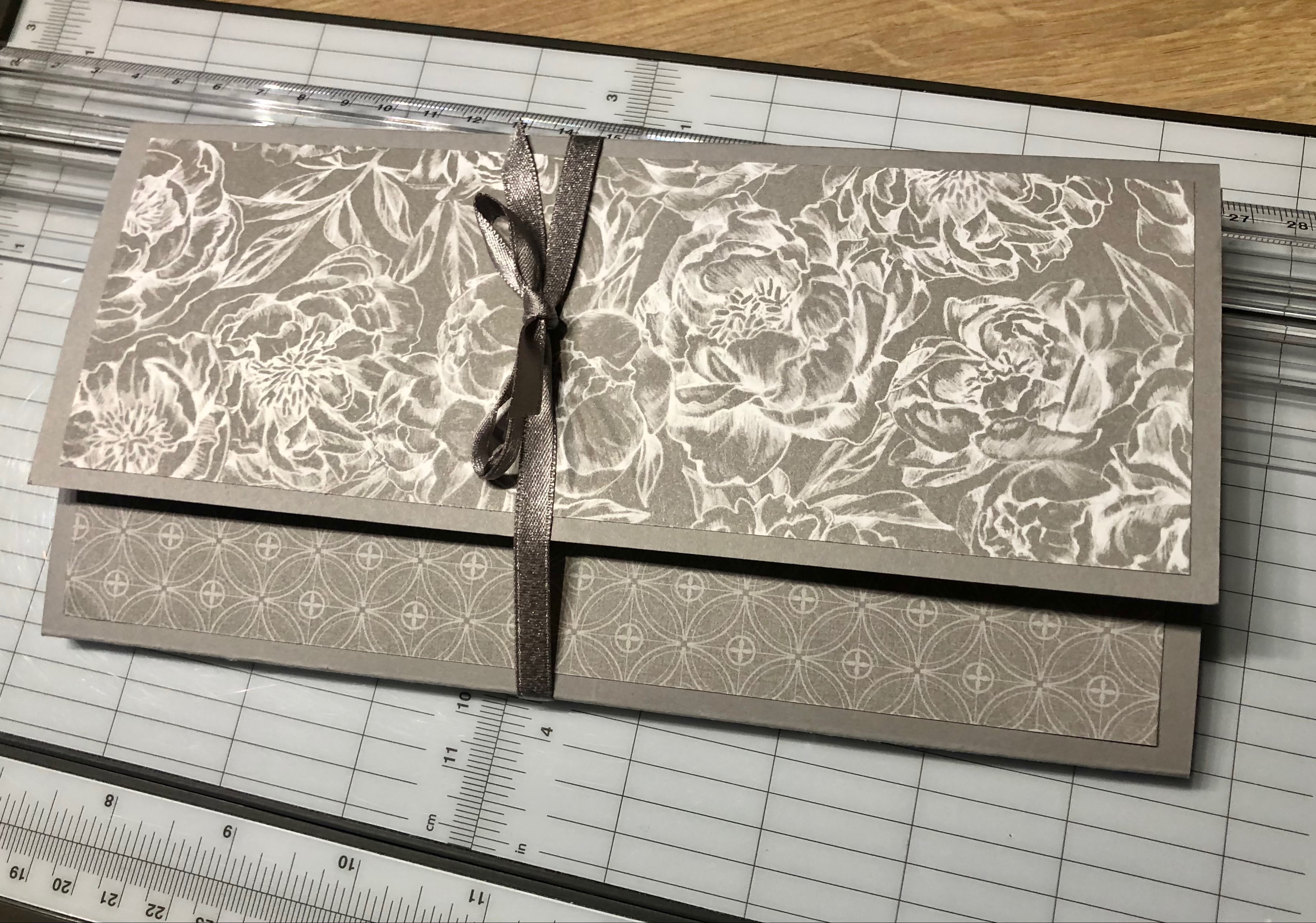 -
In Centimer:
you will need: 3 Pcs of Cardstock : Cover: score/falz the length at 10 - 10,7 - 21,1 - 21,8cm
Side panels: score/falz at 9,5 - 19 - 28,5 cm and then cut the paper in 2pcs of 10cm
Bottom: score/falz at 5,7cm - 15,2 cm - 24,7cm punch half a circle on the top side side!
Designerpaper : 2 pcs of each 20x7 cm(for the top part in and outside / 20x 9cm For bottom of the cover in- and out / 20x 9,5cm for Middle part of the cover/
20x 4,5cm for the two folds of the bottom, puch a circle in one! / 1pce 20 x 5 cm (to put behind the bottom folded piece where you will put the Fotos in,
for journaling/underneath pictures on the bottom panel white/vanilla cardstock 20 x 9 cm twice and DSP twice and for the side panels you need 12 pcs of 9,5 x 9cm
in my case I used the marmor paper.
In Inch:
3 pcs of Your Cardstock (8 1/2 x 11") COver: score at 3,15/16" - 4,3/16" - 8,5/16" - 8, 10/16"
Side panels: score at 3, 1/2" - 7" - 10, 1/2" then cut two pieces of 4,1/8" x 11"
Bottom panel: score at 1, 3/4" - 5, 1/2" - 9, 1/4" punch half a circle on one side!
DSp: 2 pcs (in- and outside) each of 8,1/4"x 3,11/16" (bottom cover) + 8,1/4"x 3,7/8"(middle cover) + 8,1/4" x 2 3/16" (top cover)
for journaling white/vanilla cardstock 2pcs + two pcs of DSP 8,1/4"x 3,1/2" and for the side panels 12 pcs of 3,1/4" x 3 15/16" ( I used the marmor paper here)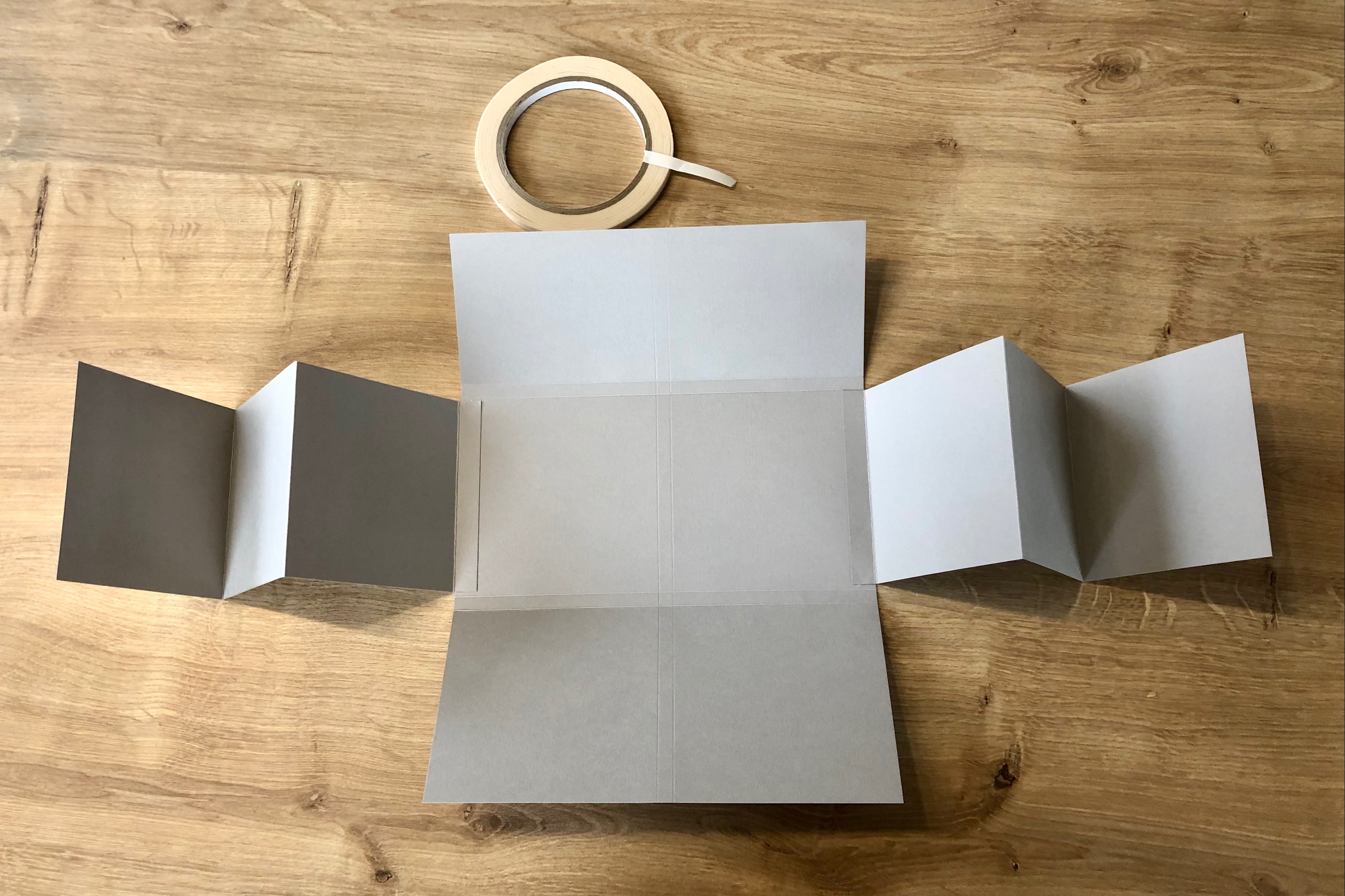 Attach the side panels and than the bottom panel with the half circle part on the bottom of the cover.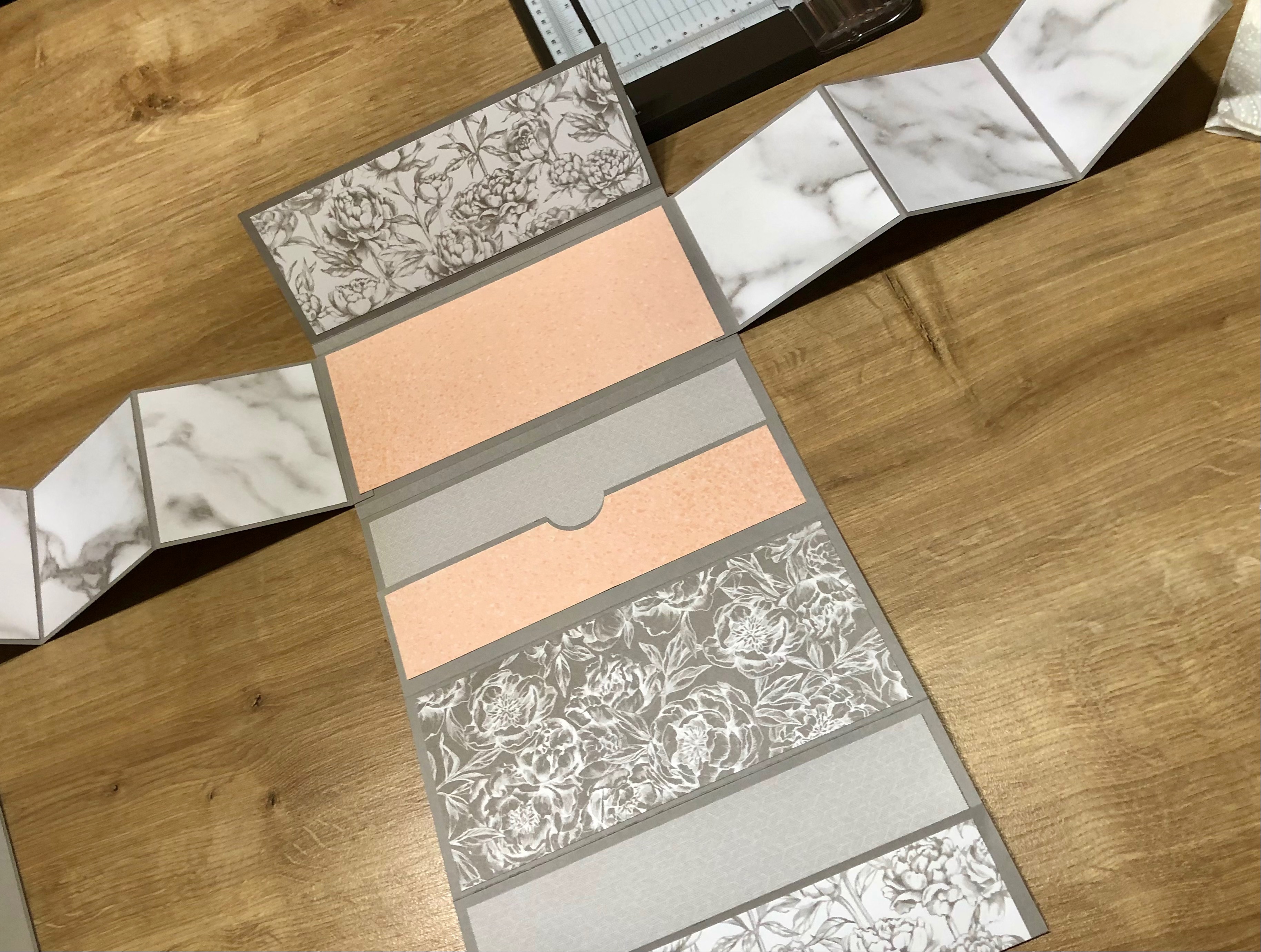 Decorate as desired! mine has not yet gotten the pictures attached in it.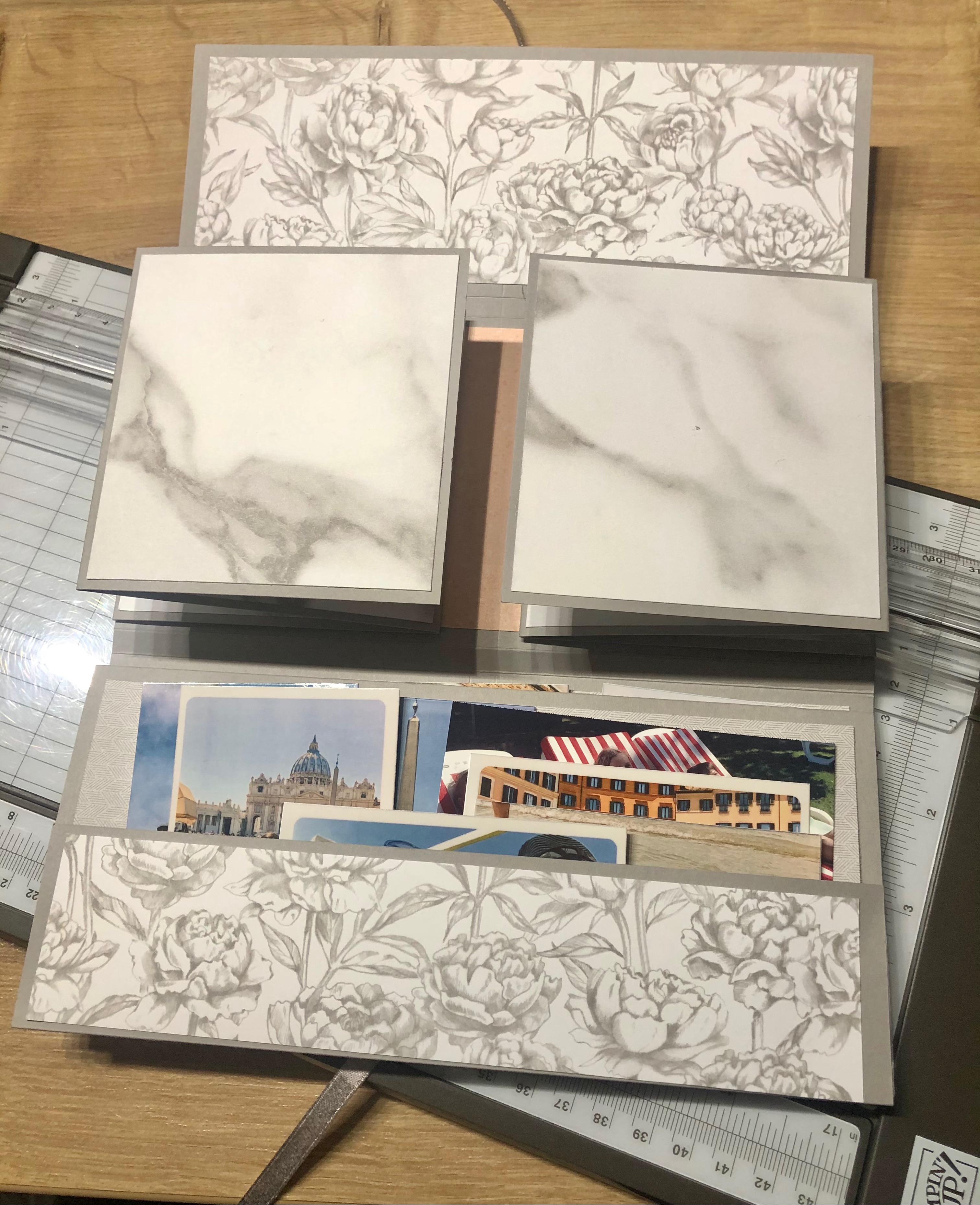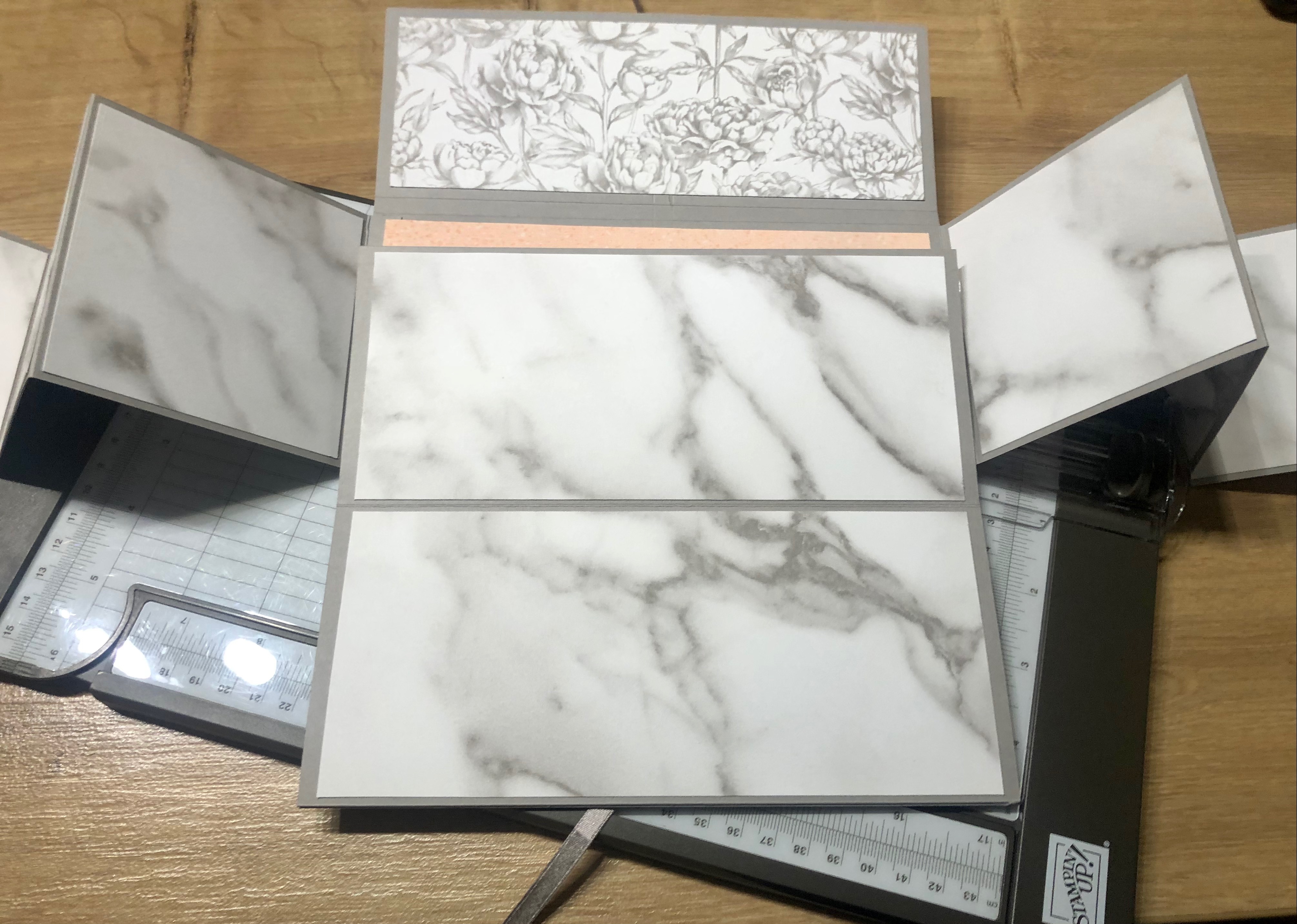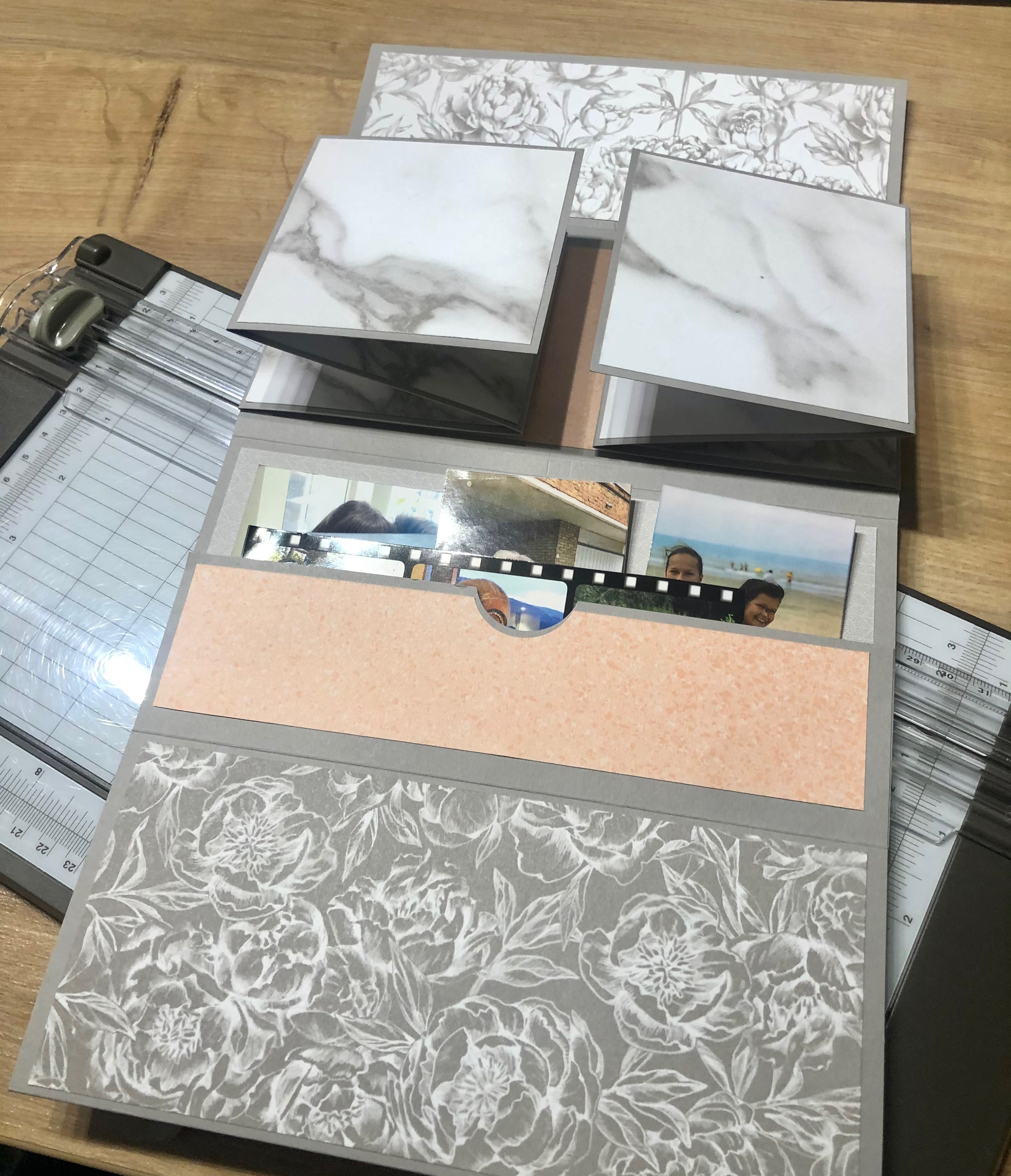 in the bottom panel you can add a lot of pictures, tickets, remembrances!
I hope you like this project!
Thanks to Zsuzsanna for this project!
Have a look at the other projects of this months blog hop!